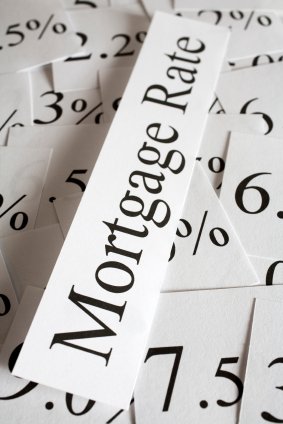 Last week two Bank of Montreal (BMO) economists, Douglas Porter and Benjamin Reitzes, issued a report on mortgage rates arguing that "the fixed rate option now looks superior" to equivalent variable-rate alternatives.
I read this report with interest because I write about what's happening with rates on a regular basis and my clients invariably ask for my take on the fixed versus variable debate at some point during their mortgage application process.
In today's post I will examine the arguments that these economists used in reaching their conclusion, and offer my take on their findings:
Assumption #1:  "The U.S. economy [is] poised to accelerate."
The BMO economists' main argument in favour of fixed rates centres around "the improving outlook for the North American economy" and particularly the belief that "the U.S. economy [is] poised to accelerate."
The consensus has certainly become much more bullish about the strength of the U.S. economic recovery of late, and we have started to see more encouraging economic data, but I have not yet come around to this evolving view for the following reasons:
The U.S. economic recovery has been underpinned with massive quantitative easing (QE) programs which the U.S. Fed is now trying to withdraw. While the U.S.'s fragile economic momentum has survived the first two rounds of QE tapering, the real bite from the Fed's withdrawal has not yet been felt. (I wrote about this coming challenge in detail in this recent post.) I think that the Fed will draw back their tapering if/when it causes U.S. bond yields to rise materially, and if that happens, the consensus estimates of the Fed's tapering timetable will prove optimistic. Since the Fed has repeatedly said that it will not even think about raising rates until well after QE has been completely unwound, future hikes in U.S. short-term rates might not occur until well after mid-2015, as is widely predicted.
The U.S. employment market is healing slowly but let's not forget this is partly because the U.S. participation rate is near all-time lows and U.S. unemployment and disability payments are near record highs. Recent signs are encouraging but it will still be some time before overall U.S. employment growth meaningfully buoys middle class incomes. Since U.S. consumers account for about two-thirds of overall U.S. GDP, this has to happen before real, sustainable economic momentum can be achieved.
The most recent uptick in U.S. economic momentum (Q4, 2013) has coincided with the largest increase in U.S. consumer credit since the third quarter of 2007. I would feel much more confident about an upswing in U.S. economic momentum that was fueled by rising incomes, rather than by increased borrowing rates.
The impacts of the U.S. fiscal squeeze have not yet been fully felt and several of the experts I read think that last year's federal budget cuts will continue to create headwinds for U.S. economic momentum well into the future.
The U.S.'s rapidly aging baby-boom population will force its federal government to deal with the crippling cost of its entitlement programs while also addressing the rising threat of massively under-funded pension programs in the near future. These cans can't be kicked down the road for much longer.
Interestingly, just about every prediction about rates heading higher over the last several years has started with the fundamental assumption that the U.S. economy was about to enter full blown recovery mode. So far that hasn't happened, and those predictions have been proven wrong more than once. While Messrs. Porter and Reitzes may certainly end up being right about the U.S. economy achieving escape velocity in the near future, I remain sceptical for the reasons listed above. read more…
David Larock is an independent full-time mortgage planner and industry insider. If you are purchasing, refinancing or renewing your mortgage, contact Dave or apply for a Mortgage Check-up to obtain the best available rates and terms.