Will Last Month's Inflation Rise Lead to Higher Canadian Mortgage Rates?
November 26, 2018
Canadian Mortgage Rates Aren't Headed Higher After All
December 10, 2018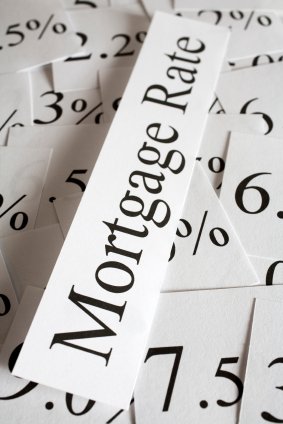 A lot can change in six weeks.
On October 24 the Bank of Canada (BoC) hiked its overnight rate by another 0.25% and warned that additional increases were likely.
BoC Governor Poloz assessed that our policy rate of 1.75% remained "stimulative" and that it would need to rise to between 2.5% and 3.5% in order to keep inflation close to the Bank's 2.0% target. Both he and BoC Deputy Governor Wilkins sounded upbeat about our economic momentum, and they expressed confidence in our economy's ability to handle additional rate hikes.
Variable-rate mortgage borrowers grew increasingly nervous. Who could blame them?
After seven years without a single rate increase, they had just seen their fifth quarter-point hike in the last seventeen months, and the person with his hand on our policy-rate lever was warning that there were more to come.
I had my doubts, which I first outlined in this post asking "How Much Higher Will Canadian Mortgage Rates Go?". In it, I outlined recent Canadian and U.S. economic data that showed signs of slowing momentum and highlighted the BoC's own forecasts, which projected reduced economic growth rates for the global economy, the U.S., China and Canada over the next three years.
Then oil prices went from falling to free-falling. Worse still, the price gap between a barrel of Western Canadian Select (WCS) and a barrel of West Texas Intermediate (WTI) continued to widen, reaching a staggering 50 USD (a record), and that exacerbated the impact of the oil-price collapse on the Alberta oil patch.
In my post titled "Is the Bank of Canada Bullish on Pot?" I asked how, if the BoC enacted two emergency rate cuts in 2015 when the WCS price hit 21 USD, it could continue to hike rates with the WCS price hovering a little above 13 USD (it subsequently dropped to under 11 USD).
The bond market's doubts have also increased of late. Have a look at the Government of Canada (GoC) bond yield's movements over the last three months: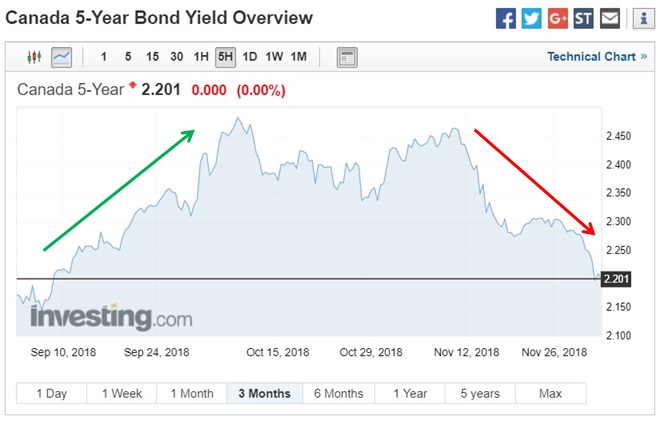 The consensus now believes that the BoC will hold its policy rate steady when it meets this Wednesday.
This time around, the Bank won't provide a detailed breakdown of how it sees economic momentum progressing at home and abroad. We'll have to wait until its meeting on January 9 for that, but its accompanying statement should give us some indication of how recent developments have impacted its rate-hike plans.
Those developments include the continuation of U.S. tariffs on Canadian steel and aluminium despite the signing of the new USMCA, the announced closure of the 110 year-old GM plant in Oshawa (and the concomitant impact that will have on broader auto industry), and our still floundering oil prices.
Stay tuned.

The Bottom Line: The BoC is not expected to raise its policy rate when it meets this week, and as such, our variable mortgage rates should hold steady for the time being. Meanwhile, GoC bond yields have fallen of late, and that has caused the fixed mortgage rates that are priced on them to stabilize. If the Bank adopts a more dovish tone in its accompanying policy statement, as the data indicate it should, we may actually see fixed mortgage rates fall – and that's a bet that almost no one would have taken only six short weeks ago.
I am an independent full-time mortgage broker and industry insider who helps Canadians from coast to coast. If you are purchasing, refinancing or renewing your mortgage,
contact me
or apply for a
Mortgage Check-up
to obtain the best available rates and terms.