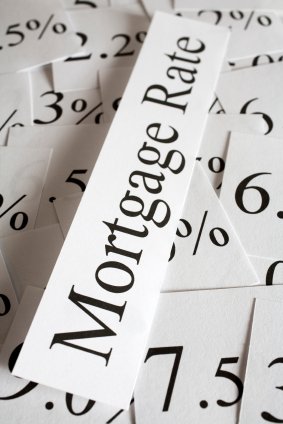 Last Tuesday, TD Canada Trust increased its mortgage prime rate (which is the rate that it uses to price its variable-rate mortgages) from 2.70% to 2.85%. In today's post, I'll provide a quick example to illustrate the impact of this change, and offer an insider's point-of-view on why there was more to it than first meets the eye.
Let's assume that a TD borrower has an existing $300,000 five-year variable-rate mortgage at prime minus 0.50%, and that this loan is amortized over twenty-five years.
Prior to last Tuesday, his rate would have been 2.20% (which we calculate by taking the TD's previous mortgage prime rate of 2.70% minus his discount of 0.50%), and his monthly payment would have been set at $1,299. As of last Tuesday, his variable rate has now risen to 2.35%, but whereas most borrowers would expect the bank to increase his mortgage payment by the additional $22.10/month that would be needed to maintain his original amortization, TD's standard practice is to hold his payment steady and extend his amortization period instead.
To understand the impact that this extension in amortization will have over time, let's look at the borrower's mortgage balance at renewal both before and after TD's most recent rate hike.
Before the rate increase, the borrower's balance at renewal would have been $252,363, assuming that his rate had held steady over his mortgage term. After the rate hike, because TD didn't increase his monthly payment by the additional $22.10 and extended his amortization period instead (which is TD's standard approach unless specifically instructed otherwise), his balance at renewal will increase to $253,763, which is $1,400 more than it would have been had TD not raised its rate.
To be clear, if you are a TD variable-rate borrower you can call the bank and have your payment increased to account for last week's rate hike, but you have to initiate the call. Otherwise, expect to have a higher balance at renewal.
Most market watchers quickly concluded that this rate hike was tied to the Department of Finance's latest mortgage rule changes, but I don't see it that way. These changes reduce the availability of mortgage insurance going forward, and will thus raise a lender's cost to fund some of its mortgages in the future. But TD's mortgage prime-rate hike raises borrowing costs for all of its existing customers, even though their mortgages were set up prior to the latest rule changes. read more…
David Larock is an independent full-time mortgage agent and industry insider. If you are purchasing, refinancing or renewing your mortgage, contact Dave or apply for a Mortgage Check-up to obtain the best available rates and terms.